Great Yarmouth Pleasure Beach Fairground Frights 2021
As we were over in the East of England as part of our roadtrip of terror, next up was a visit to Great Yarmouth Pleasure Beach's Halloween event, Fairground Frights. This runs in the evening after the park has closed for its daytime session and allows you to enjoy all the rides, including the brilliant Roller Coaster as many times as you like during the few hours in the park.
First up was a visit to the Not So Fun House, which has been taken over by a bunch of clowns. The use of fog does a great job of creating tension and scares in the main open space with the actors using a variety of different techniques to provide some fun interactions. Whilst quite short, this was a fun little maze and one that we did a few times.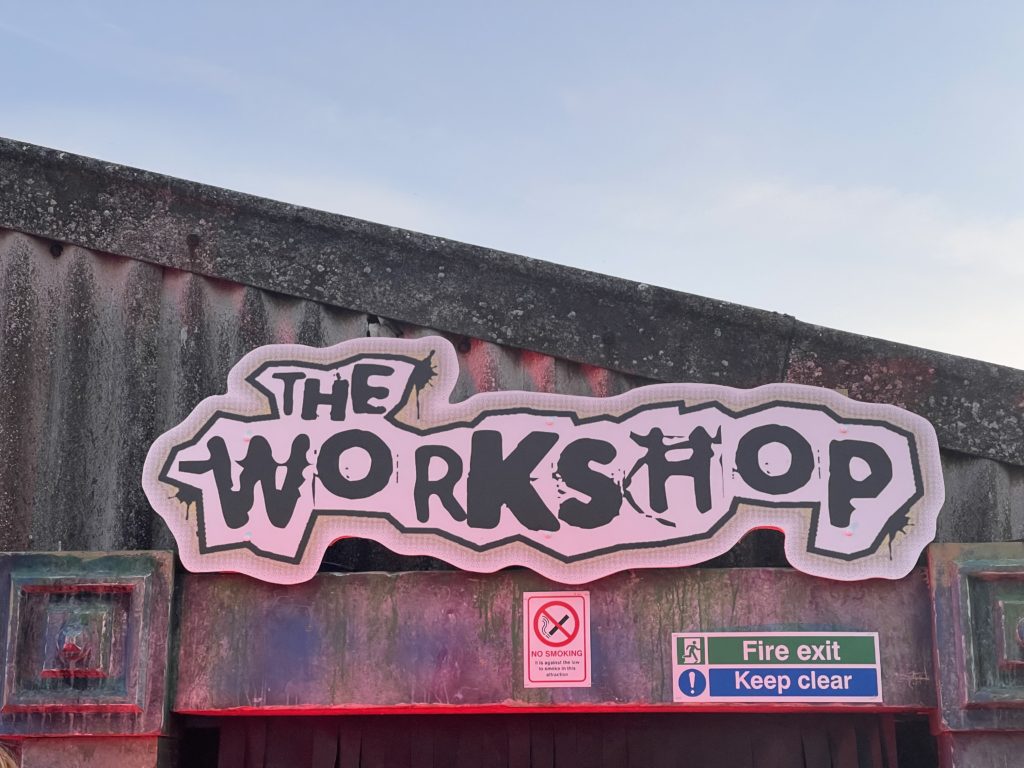 Next up was The Workshop, again this is another fun, short maze with basic theming, but some nice pieces of fairground equipment. This was a slightly more theatrical maze, with the actors all on point providing a number of fun interactions, especially once they found out my name.
In addition to these two walkthrough sections, two of the rides, Haunted Hotel, and Snails and Scary Tales, have actors in the rides providing a variety of scares and more theatrical short scenes both fitting with the rides themes. Haunted Hotel is a fun ghost train offering a few jump scares from the game hotel staff and Snails had twisted characters from the various fairy tales you go through, Snow White and the Witch from Hansel and Gretel being our highlights. The 4D cinema also shows a fun Dracula adventure.
Lastly we have to mention the excellent street team who maraud about the park scaring and interacting with the guests. They were all distinct and on point.
The whole event was fun, you can do everything in the park, including the rides multiple times if you can fit it in. This was also topped off by a nice firework display when the park closed. For under £20, we felt this offered brilliant value for money and was a great fun, family event using the Pleasure Beach. Definitely worth checking out.
Great Yarmouth Pleasure Beach Presents Fairground Frights 2020
A new event took over the Pleasure Beach in Great Yarmouth this Halloween season. Actors descended on the park and found their way into two attractions the ghost train and fun house.
Atmosphere
The actors around the park were great, offering a mixture of scares and comic relief. What I quite liked is that the actors would sometimes pop up in queue lines and on some occasions, you would even find them on rides. You never quite knew where you might bump into a character throughout the night. There wasn't a standard theme to these roaming actors more so a mix from hillbilly to creepy schoolgirl.
One thing we noticed throughout the park was the lack of facemasks on actors inside and outside attractions. While actors didn't come particularly close, we were surprised that, especially when indoors that actors were not wearing masks (something we have come to expect in the current climate). It's worth noting that hand sanitiser and all the other procedures we have come to expect were followed.
The Haunted Hotel
What is normally a fun ghost train with good theming throughout was added to with several actors. These actors worked well in the space they had offering a creepy addition to the ghost train. While not terrifying the actors managed to create some solid jump scares especially the second actor who managed to get me on multiple occasions.
Not So Fun Factory
This time a fun house attraction was added to with about 5 or 6 clowns. I managed to go through this attraction 4 or 5 times each offering something different. On a fairly busy run you got the more traditional jump scares. The actors used the space well and the use of smoke limited visibility which enabled the clowns to hide easily. But if you managed to go through when it was quiet you got an onslaught of clowns from every angle. The first clown was a standout for me. Improvising and even clocking I had been round before changing up what he did. On an earlier run he asked my name and continued to use this throughout the night in novel and humorous ways.
Summary
I had a great time at Fairground Frights, there is a lot of potential to either add more scare attractions or utilize already standing things like the 4D cinema which could show a more horror themed movie. I really hope the event returns building on the success of this year. While not the scariest of events I feel that what was delivered was perfect for audience who seemed to be loving it as much as I did.